The consequences of car accidents can last for weeks, months and even years. The injuries can be fatal and can make you feel angry, concerned, and anxious. Nonetheless, car accidents can be threatening for your finances and possessions. It is very important to wisely choose your representative, one that has experience and who is an expert on car accidents in Maryland thus having knowledge the Maryland law. Insurance companies can harm you financially and hiring the right speeding accident attorney in Baltimore can help you recover medical bills, lost wages, and other losses. By hiring Dubo Law you will be free of having to deal with insurance companies and we'll make sure to handle all the legal matters regarding the high-speed accident.
Why Choose Dubo Law for Speeding Accident in Baltimore?
Neil Dubovsky is an experienced car accident attorney who can especially provide you with excellent service concerning car accidents. Here at Dubo Law, we will make sure to investigate your case with great care and examination to make sure all legal matters are done properly.
So, why us?
We can say that Dubo Law is a local law firm that handles cases all over Maryland, but mostly in Baltimore. This means we are familiar with Maryland laws and most importantly, we are acquainted with local judges and the court system. This can be to your advantage compared to hiring someone outside the local area.
We are closely specialized in speeding car accident cases. Neil Dubovsky, our founder, Baltimore lawyer for a car accident caused by speeding, worked for the other side too, i.e., represented insurance companies, so he is familiar with tricks they use. You, as a client can benefit from this too since we will make sure that you don't have to deal with insurance companies and medical bills.
The results speak for themselves. By working aggressively and attentively on our cases we achieved great results thus helping many clients to recover millions of dollars from their car accidents.
What is important for you to know about Dubo Law is that there is no risk for you as a client. You don't owe us anything unless you fully recover your finances from the accident. No recovery, no fee!
Our lawyers will always show interest and enthusiasm in your case. Here at Dubo Law your interest is the priority for us. The firm is client-centered, and our car accident lawyers do the job with great attentiveness and care. It is important for us that our clients feel comfortable and secure.
Consultations are free! So, be free to fill out the form below, or you can simply contact us by phone (443)275-6345 or text (443) 870-4329. We are open Monday to Friday: 8:30 AM – 5:00 PM.
Let Our Clients Speak

''I am very pleased with how Neil and Jordan handled my case. They are both very professional, warm, friendly, knowledgeable and most of all caring. All I had to do was make the call and they took care of the rest. I was able to heal and rest while they took good care of me. I am extremely grateful for them both! I highly recommend Dubo Law. And did I say how quick they were to get my case done! Just blown away! Thank you, Neil! Thank you, Jordan!''
''From my very first conversation with Neil who answered the phone, I felt confident in his abilities. He was my third call after being rear-ended by an uninsured driver. Neil was kind and relatable. The case took longer than initially expected due to the driver providing false insurance information, but Neil and his team were easy to work with. In this new world with covid and everything moves at a slow pace. They provided me with feedback and provided reasonable deadlines to all parties. I would highly recommend Neil and his team.
''It was a great experience he was very proactive and reactive to my case, and he was very timely and consistent to the needs of me as a client. I would refer him to my friends and family.''
What Percentage of Accident Are Caused by Speeding in Maryland?
Speeding is one of the most common causes of car accidents not just in Maryland but the entire U.S. Specifically in Maryland, almost 10,000 car accidents occurred because of speeding.
What happens is that driver finds it hard to control the vehicle because of high speed, thus limiting the effect of airbags and safety belts. Also, the driver doesn't have enough time to react in this situation, endangering himself, other drivers, or other passengers in the vehicle.
Here are some statistics on speeding car accidents in recent years:
28% of all traffic accidents in 2020 were caused by speeding.
Accidents related to speeding that caused death increased by 16% from 2019.
Number of female drivers speeding is way less than males in all age groups.
Specifically in Maryland, the number of people involved in speeding accidents increased by 10% from 2020 to 2021. Small amount of them were fatal crashes causing death.
Things To Do Right After Being Injured or Involved in a Speeding Crash in Baltimore
1. Make sure you get out (if possible) of the vehicle safely
2. You should call 911 to ask for medical help if you need it. Both ambulance and police officers will respond to your call. The police report is of great importance since they file a report that can later help you with insurance company or lawsuit.
3. If you have the possibility, make sure to gather evidence from the scene:
Photos/videos footages
Statement from the witness if there is one and make sure to take some personal information on witness
Ask officers about everything concerning the report
Information on another driver (if it is not hit and run situation)
4. To avoid dealing with insurance companies and to get the compensation you deserve, contact Dubo Law (contact information are written above), and we will help you focus on your recovery while we deal with legal matters.
How Can Speeding Accident Attorney Help You?
Even if you have the possibility to gather certain evidence at the scene, hiring speeding accident lawyer will make it easier in the entire process afterward. By hiring legal counsel, you will be safe from being taken advantage of by insurance companies and you will be well paid for your losses, including:
Medical bills
Lost payments
Decreased earnings
Pain, suffering and mental health
Damaged property
Maryland Laws on Speeding Car Accidents
Every state has its speed limitations on the roads as well as laws that we can apply while dealing with this type of accident. Here are laws that are common in the State of Maryland:
1. Speed limit in Maryland is lower than in other states. Baltimore and Washington beltway is 50 miles per hour. Route 50 which goes through Washington has a higher speed limit. It doesn't matter how high the speed limit is; there always will be drivers who drive beyond the limit. In Maryland, this is an offence and you will get a fine and 3 points upon conviction.
2. Liability insurance is necessary and required by law. One in ten drivers in Maryland doesn't have insurance. The thing is, you could apply for Uninsured Motorist (UM), equal to liability you carry, if you got involved in an accident by uninsured driver, or if you are injured in hit and run situation.
3. Contributory negligence is a law that can prevent you from compensating any amount from speeding Your fault can be 1% and another driver can be 99% guilty, you will lose your car accident case for sure. This is another reason for you to hire Dubo Law, since the insurance companies will for sure raise this issue in favor of the other party involved in a car accident. Additionally, our attorney Neil Dubovsky once worked in favor of insurance companies, so he is well acquainted with how they do business.
4. Maryland's statute of limitations is of great importance, and it states that you have three years to file a claim if being involved in a car accident. If you pass the due date, you will never be able to file your lawsuit and require settlement of any kind. Sometimes they can change the deadline, so you should never assume that you have three years for sure. It would be best to hire car accident attorney who can deal with these legal matters. At Dubo Law we have the experience and knowledge to guide you through the case from A to Z.
How Speeding Affects the Accident
The most important thing to remember is that speeding does not just affect the driver of the vehicle but other people on the road as well as people who are in the car with you, and it may include elderly and children.
By speeding, drivers risk a crash and risk being injured severely in a crash and here is why:
There is greater distance with which vehicle goes until the driver becomes aware of the danger and his/her reaction.
There is a greater distance in which drivers must stop the vehicle once he/she starts to brake.
The force increases as the speed increases, so the impact of the crash gets more severe, and the vehicle can't protect the driver and the passengers. Airbags and safety belts sometimes simply don't work in these situations.
Consequences of Speeding
Consequences of speeding are of course big, and some losses can never be compensated, like death of loved ones or some severe injuries which can influence the rest of your life.
Depending on how severe the injuries are, the recovery can take days, months and even years. We should also mention that some injuries may involve surgeries, physical therapy and assistance since some disabilities can be permanent. All costs of medical services should be calculated properly. To do so, hire Dubo Law and we will do the job for you and make sure you get fully paid for your loss.
Here are some injuries and consequences one can suffer after a speeding accident:
Traumatic brain injuries
Injuries of the spinal cord
Amputation of appendages (legs, arms, fingers, toes)
Burn injuries
Internal organs injuries
Injuries and dislocation of joints
Broken bones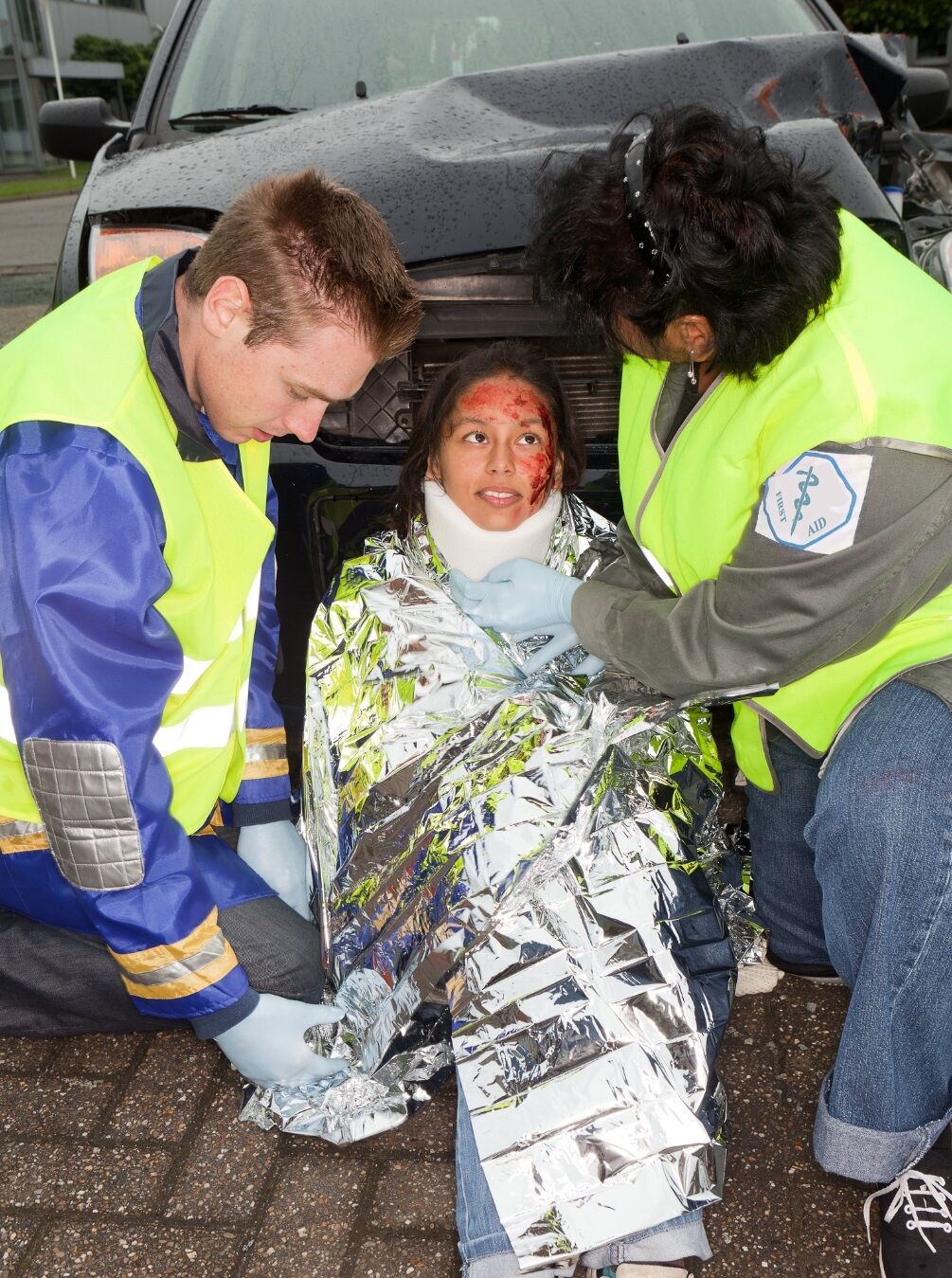 Aggressive Driving and What Causes Drivers to Increase Speed
The National Highway Safety Administration (NHTSA) defines aggressive driving as ''an individual commits a combination of moving traffic offenses to endanger other person or property''.
Speeding is very dangerous and can cause fatal crashes and severe injuries to the individual committing it and other persons involved in an accident. Bear in mind that this is a serious offense, and it can result in criminal charges.
If you have been involved in this type of accident, make sure to contact us at Dubo Law and we will investigate the case to the bottom, so you don't become aggrieved party. Aggressive driving includes:
Speeding
Tailgating
Not obeying the road signs and traffic laws
Racing with another vehicle
When drivers tend to comfort the other driver in the middle of traffic
As we mentioned above, speeding is a type of aggressive driving and it should not be justified, no matter what. We will mention some of the reasons why drivers increase their speed on the roads:
Traffic – This is the most common factor for drivers to increase their speed and drive aggressively. They usually become angry at someone who they think blocked their way, so they respond by changing lanes frequently and speeding.
Running late – People will commonly say that they were late for meetings, school, appointments, and work to justify aggressive behavior behind the wheel or speeding.
Anonymity – Drivers will usually get involved in this type of driving behavior if they think that they will probably never see that person again.
Habitual behavior – For some drivers aggressive driving and speeding are common, and this is how they normally drive (not an excuse though).
Prevention and How to Avoid Road Rage
Make sure to cool off if you are upset before you get behind the wheel and don't rush. Speeding won't get you anywhere faster. It can just make you more impatient thus causing an accident. Aggressive driving doesn't just affect the driver but other drivers, pedestrians, and bicyclists.
Things to Remember When Driving:
If someone drives slowly lay off the horn!
Don't stop on the road to comfort the other driver
Keep proper distance.
If Someone Else Drives Aggressively:
Make sure to safely change lanes and again keep the proper distance.
Ignore the other driver and don't stop. If you stop it may cause that person to think you want confrontation.
If you think that the driver is following you, make sure to lock the doors, drive carefully and get to the nearest police station.
Baltimore Speeding Accident Attorney : Free Consultations
Drivers must bear in mind that if they increase their speed they won't arrive on time or be early. They will probably cause severe accident which can be harmful for both parties and even their families. Speeding is not a minor but serious offence. If you have been a victim of speeding accident or a victim of aggressive driving and behavior of another driver, but you can't prove it, contact Dubo Law and we will gather evidence, pursue insurance companies, find the person responsible and make sure you get fully financially recovered. And remember No fee unless you recover!
Contact Us for Your Free Case Review!
Address
9515 Deereco Rd, Suite 704
Lutherville-Timonium, MD 21093
Phone
443-275-6345
Texting number
(443) 870-4329
Hours of Operation
Monday – Friday: 8:30 AM – 5:00 PM
COVID-19 Update
Your health and safety are important to us. Please be advised that we are open for business during COVID-19 quarantines. All consultations will be conducted either via video chat, phone, or email.
Sign up for our newsletter

"*" indicates required fields